Fashion Designers You Need to Know From NYFW
Art Hearts Fashion always bring together an eclectic and energized group of fashion designers that are already celebrity's favorites and emerging fashion icons you need to look up ASAP. Here are some of the most memorable collections from #NYFW in my beloved New York City.
Japanese-born Angeleno Kentaro Kameyama is the newest member of fashion's "in" crowd as the winner of season 16 of Lifetime's Emmy-nominated series "Project Runway". Kameyama clinched the coveted prize with his jaw-dropping runway show at New York's Fashion Week, which featured models wearing expertly-tailored clothes inspired by classical music, walking to an original score composed by Kameyama. The fashion-forward collection impressed the show's judges Heidi Klum, Nina Garcia, Zac Posen and this year's finale guest judge, Jessica Alba. The collection was a featured spread in Marie Claire Magazine.
Photos courtesy of Getty Images
Nisha Singh infused rich fabrics she knows well from her Indian heritage with contemporary cuts and structures. The youthful palette also provides an unexpected look to often-vibrant colors associated with Indian clothing. The result was a Southeast meets West freshness.
Photos courtesy of Getty Images
Charles & Ron, hardly emerging but true fashion phenoms, used Silk Twill, Pure Crepe Wool, Lace, Velvet, Chiffon and Faux Fur and this season also introduce logo embroidered denim. The beaded appliqué Jewelry motifs are all hand-beaded in a mixture of glass beads and crystal.
Jewel Tones are the core for this collection, Purple, Cardinal Pink, Chili Pepper Red, Orange, Lilac all set off against staple Black, Camel and a soft winter White.
Charles & Ron were one of the few designers that were selected in 2018 to exhibit one of their couture designs at Buckingham Palace for the Commonwealth Fashion Exchange. The exhibition curated by Vogue's Hamish Bowles also featured Stella McCartney, Burberry and Karen Walker among others. The night was a first at the Palace and guest included ; Naomi Campbell and Anna Wintour who complimented the designers on their design.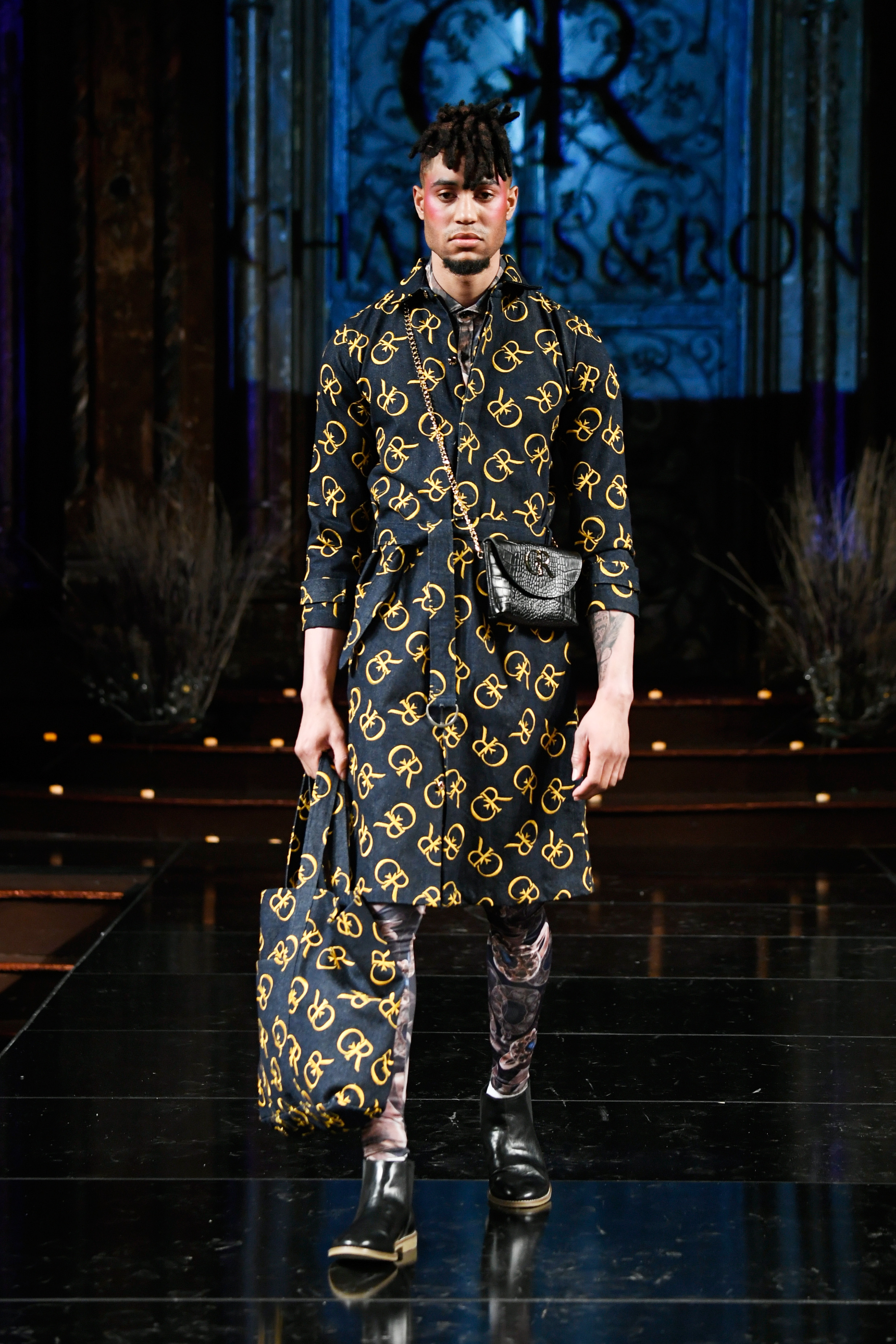 Photos courtesy of Getty Images
@YvonLux is a marketing CEO and founder of VANT4GE, LLC who is also a social and beauty influencer, Yvon Lux. She is also a published blogger and editor for her Apple News channel.

The young female founder has been featured in the Los Angeles Times, Orange County Register, Modern Luxury Magazine, and various other media outlets. Connect with her on Instagram and subscribe to her channel!